morning calls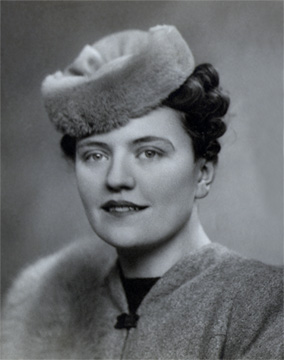 1919 - 2004
morning phone calls are always bad. dozing this morning i was brought around by the phone ringing. i heard my dad answer in the next room... "hello? yes. oh no." then off to the den to sit down and talk, out of earshot. i waited for the call to end before going out in the den to ask, but i knew what it was. grandma nickson, age 85 and in the hospital since late july, had died in the night.
for those of you who never met her, there are many illustrative stories to relate. walking with her into a curio shop in robin hood's bay and the shopkeeper asking her if he could help with anything. she proceeded to lecture him at length on the decline in the quality of the village since the war. apologizing to waitresses after dinner for our poor american table manners. but also the time in greece where she took offense at a fellow tourist making fun of americans and pushed him into the sea because her son-in-law (my father) was american and a wonderful man. buying a large stuffed gorilla, naming it benjy and taking it around her neighborhood in a pram.
but at a time like this what comes most immediately to mind is her accosting me in the hallway, or marching into the den some afternoon after school and turning off the television to get my undivided attention. "my youth was stolen by the war," she would tell me. "i got married and bang! your grandfather went off to fight and i didn't see him for years. he lost his business. we all lost so much. so you must enjoy yourself as much as you can, right now." in recent years she was even more insistent upon this point, as might be expected with advancing age but also because she was furious at again having had life stolen from her, this time the premature death of her daughter from MS.
given the past few years, the only real way i personally can honor her memory is with large and drastic changes to the way i have been living, or rather not living. but for those of you who never met her, please raise a glass, or elevate a pleasurable vice of your own choosing to great excess and without apology, to my formidable english grandmother olive nickson.
-September 12, 2004 10:00 PM